SUTD eDimension Mobile App is a UI design project I did with a team as the course work of
Information Product Design class
when I was studying at Singapore University of Technology and Design (SUTD). 
At SUTD, students use a web based learning management system called eDimension. It covers most of the tasks when study and live at SUTD,  from managing courses, downloading materials, submitting assignments, discussing with teachers to booking school facilities. It is one of the most used web systems in SUTD. 
However, the system's web portal is not very friendly to mobile devices, and it does not have a mobile version. Set against this is the fact  that all courses at SUTD, as the result of the collaborated development with MIT, are very dynamic. Usually one course will be given in different classrooms and labs across the semester. The complementary materials of a class are often in rich formats and updated by professors constantly. And there are a lot of open lectures, seminars and tutorials for student to catch. SUTD students are eager to have a client on their smart phone to mobilize their management of study life.
To understand the campus life of SUTD students better and their usage of eDimension system, the team conducted interviews and surveys with students. In the survey, we lists most of the functions of eDimension, and asked the students to rank them by importance and then rank them by usage frequencies. We calculated each function's two rating scores and arrange them into a matrix, to help us determine what functions shall be put into the mobile version of eDimension.
Suvey Results: Student Usage of eDimemsion Website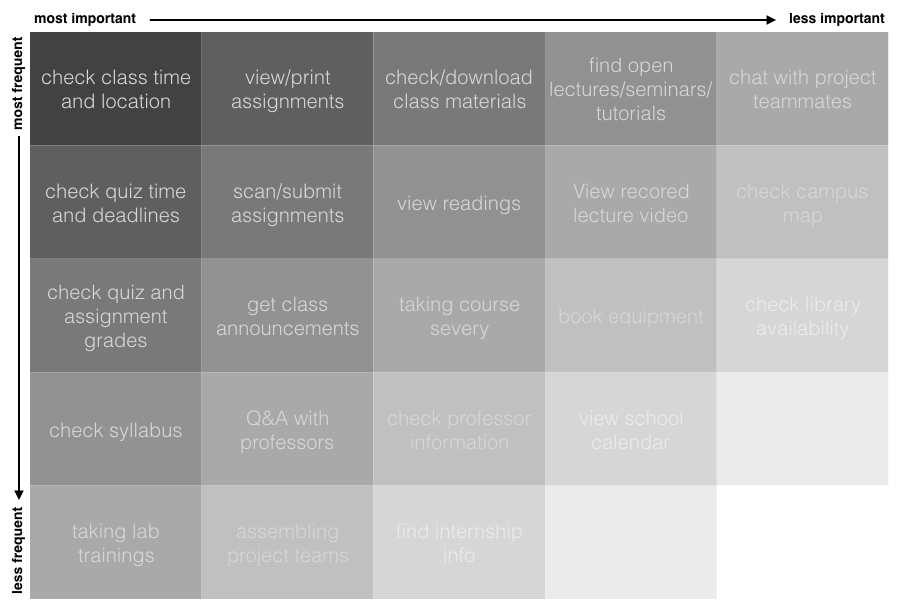 John is a SUTD pioneer student. Every morning he checks class and lab updates and downloads the latest course material accordingly from eDimension, and then sync them into his iPad for use in classes. His class usually begins at 9AM and goes until 11AM. After Lunch hour, John will download the morning class's assignment for this week and print them in the printing stand. Most afternoon he will have football trainings, or play Frisbee. He will quickly do some pieces of his homework in training breaks, or while having bubble tea at Breadyard, to squeeze out more time for his comedy schedule at night.
In the design of features, following the research, we plan 5 key interfaces covering 4 major functions: a
timeline
showing and linking to classes, events and deadlines, a
course portal
managing course materials and submissions, a
grades panel
displaying quiz and exam results. A
messaging channel
for quickly find and connect with classmates and teachers. Several popular secondary functions are grouped into the fifth tab. 
Based on the interviews and persona, we set the 
keywords
 of eDimension Mobile UI: 
clean, practical, straightforward
.
Right before we started this project, Apple released iOS 7. We inspect the guidelines and visuals of this whole new aesthetic and interaction system.  It fits our goal of the design very well. So we adopt the new iOS elements. By utilizing foldable elements, pop-out windows, hybrid lists, the app allows students to either get a quick peek of important information or gain more insight without going into deep layers.