Interested in extending CASIO's watch product line and building unique brand image in Chinese market, CASIO Design Center Shanghai organized this watch design project with selected design students in Zhejiang University. The product was targeted at the younger generation who were coming to their late 20s in the following 2 to 5 years. During the 6-month project time, with the support of CASIO's design centers in Shanghai, Hong Kong and Tokyo, we started from intensive market research to capture and predict cultural and lifestyle trends in the target group. These insights were later used to form watch concepts with detailed function, color and material Design.

The team looked into the market from three perspectives: technology, design, and entertainment. By collecting and analyzing burgeoning products, services, lifestyles and social values information, we dug into branches of subcultures of the youth. Then we summarized the findings into persona and trend keywords to guide the design of the watches.
We developed two final design proposals, "Mori" and "Lisa", named after its relative persona. 
Mori is this kind of girl that attracted by quality that fits with her self-conscious eye. She holds the ambivalence of being modest and impressionable. Watch "Mori" uses the combination of polished pink gold and ceramic white as its color scheme, to balance luxury and austerity. The buckle structure on the back allows the girl to use her other accessories as watch straps to customize her watch for different occasion or mood.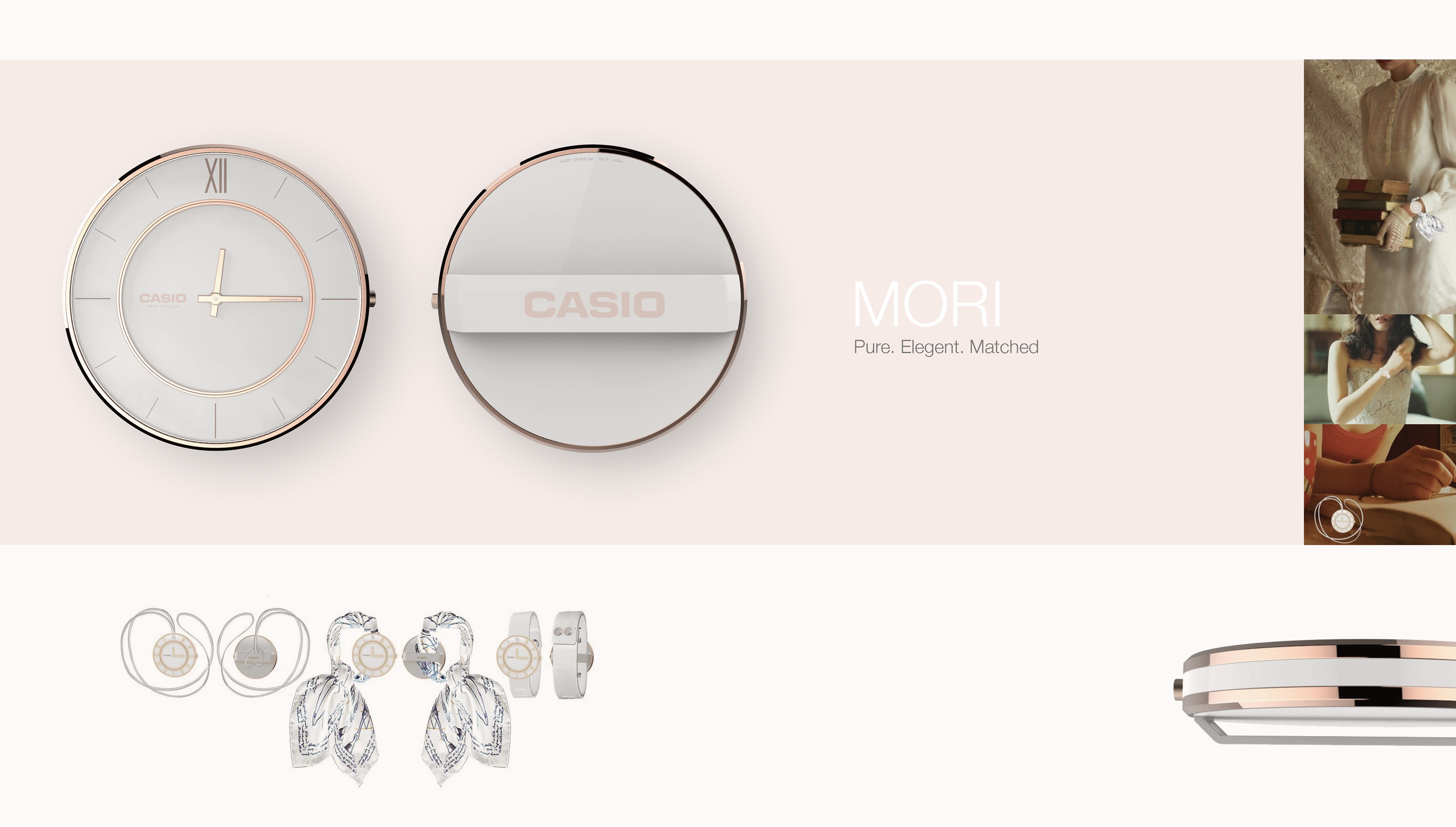 Lisa, on the other hand, has more freedom in mind of choosing things to buy. She will wear cheap chinos with expensive high heels. She is the witty one in her circle and everybody know her is obsessed with colors. Watch "Lisa" takes the concept of pulp and peel of fruits. Its separated watch case and strap come with various fresh colors. They are soft and flexible  so the girl shall have no trouble making her daily combination.